Overview
This page is under construction.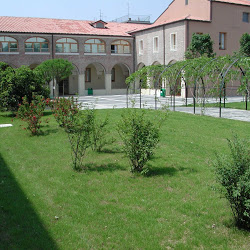 The Department of Statistical Sciences
The Department of Statistical Sciences was created in January 1984, and was one of the very first departments to be established at the University of Padova. The Department was a successor to the Institute of Statistics, the prestigious Institute founded by Corrado Gini, back in 1913, to replace the so-called "Gabinetto di Statistica", originally established in 1889 within the Faculty of Law. Read more (in Italian).
The Department was set up with the aim of concentrating all the University's resources related to Statistics and its application under one roof. Thirty years later this commitment is still our main objective. The Department hosts researchers working on both methodological aspects and developing statistical methods to study important issues through a quantitative approach. The latter case covers a variety of areas, ranging from Economics and Demography to Environmental Research, Life Sciences and Technology passing by Social and Health Sciences. The attention for high research standards is witnessed by the results obtained in the first official ranking of Italian research production (VQR 2004-2010) carried out by ANVUR . The Department of Statistical Sciences ranked second among the large departments in Area 13 - Economical and Statistical Sciences. At the same time, the University of Padova on the whole ranked first among all large Universities in the above area. Read more (in Italian).
A further mission of the Department is to promote knowledge and competence in Statistics at all educational levels, especially in the academic field. Statistical education at the University level started within the former Faculty of Statistical Sciences, established at the University of Padova at the end of the 1960s. Indeed, the number of faculty member who also teach outside the Department of Statistical Sciences has increased considerably over the past two decades. Nowadays the Department offers courses in programmes of Economics, Political Science, Education, Humanities, Engineering, Psychology, Medicine, Mathematics, Physics and Natural Sciences, as well as for several Departments of other Italian Universities (Milano, Udine, Venezia, Bolzano). Ultimate excellence in education is reached within the Doctoral Programme in Statistics.
A third commitment of the Department of Statistical Sciences lies in the collaboration with partners outside the University, to whom the Department provides the expertise they need in order to set up practical research projects with private or public institutions on a national or local scale. The Department has a long tradition of contacts with national and regional stakeholders, but also has consolidated, since its establishment in 1984, active and fruitful collaborations with a number of research institutions, both on a national and international level.
The Santa Caterina Campus
Since 2001, the Department of Statistical Sciences has been placed within the historical building of the former "Monastero of Santa Caterina d'Alessandria". The two-storey building stretches over a total area of 4,389 square meters.The campus consists of eight lecture rooms, two computer labs and the departmental library, all situated around a large garden.
The Campus, which is generally referred to as "Complesso Santa Caterina", lies in the middle of historical Padova and is at walking distance from the train and the main bus station. The building is adjacent to the recently renovated church of Santa Caterina. This church of the seventeenth century is a replica of the smaller original church from the thirteenth century, where more than 200 years ago Giuseppe Tartini, one of the most famous violin players of all times, was buried. Read more (in Italian.)
Contact
Dipartimento di Scienze Statistiche
Complesso Santa Caterina
Via C. Battisti, 241
35121 Padova
Email: dipstat@stat.unipd.it
Phone: +39 049 827 4168
Fax: +39 049 827 4170